Cornwall parents spared school holiday fines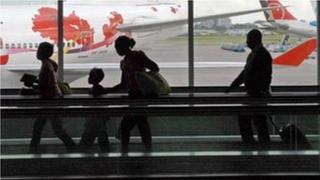 No Cornwall parents have been fined for taking their children on holiday during term-time in the past academic year, according to council figures.
In neighbouring Devon nearly 900 fines were handed out in the same period.
Parents are banned from taking their children on breaks outside the traditional school holidays unless there are "exceptional circumstances".
Cornwall Council said it was up to heads to decide what was "exceptional" and whether fines should be issued.
David Barton, of the Cornwall Association of Secondary Heads, said fines were "not an automatic reaction" to absences without permission.
'Positive way forward'
"A conversation would be held with parents that the absence would be unauthorised," he said.
"I want to work with them to discourage them from taking their children out of school during term time and don't believe an automatic fine, particularly for someone with good attendance, is a positive way forward."
Cornwall Council said in a statement: "The authority has not advised head teachers in Cornwall to avoid issuing fixed penalty fines.
"The decision on whether to grant leave of absence in term-time is always made by the head teacher of each school."
It said absences in primary schools reduced from 36,100 half-days in 2012 to 23,100 in 2013, and in secondary schools over the same period absences were cut from 14,100 half-days to 10,300.
"This shows that more children are now attending school in Cornwall without the need to unduly prosecute parents."
The Department for Education said: "Each local authority must consult with schools in its area to set the criteria for issuing penalty notices.
"Evidence shows allowing pupils to regularly miss school can be hugely detrimental to a child's education.
"The most recent full-year figures show we are making progress, with 130,000 fewer pupils regularly missing school under this government."