Godrevy sewage postpones surfing competition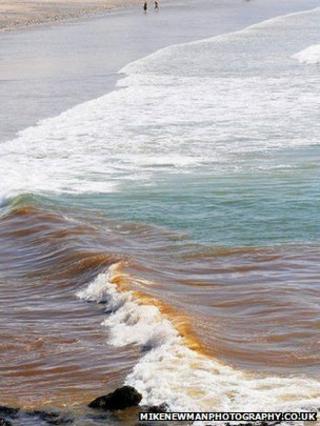 A surfing event was postponed and bathers ordered out of the sea after sewage flowed onto a National Trust beach.
RNLI lifeguards acted after the third sewage alert so far this year at Godrevy, Cornwall.
One of the organisers of the 10 Boards event described paddling through "10 metres of brown water".
South West Water (SWW) blamed heavy rainfall overwhelming the sewage system and apologised "for the inconvenience".
Thirty two women were competing in Saturday's event, which has been held on the beach for the past three years.
The RNLI put up red flags on the beach after receiving a pollution alert from SWW via a Surfers Against Sewage (SAS) text message.
Health risks
Alexa Poppe, from 10 Boards, said: "The water turned brown in about half an hour, the flow was incredible."
She said the event resumed on Sunday and no-one had become ill.
Nick Holden, from the National Trust, said: "We were really disappointed that we had to postpone the competition.
"The alert system kept the girls safe, but it is very frustrating that these incidents still occur."
SAS said the text messaging system, run with SWW to alert beach users to sewage overflows, had been triggered once in May and twice in June.
Campaigns director Andy Cummins said: "There was heavy rain, but this is weather you would expect.
"If there are discharges they should be for extreme events and this was not an extreme event."
Surfers and bathers risk a number of health problems from swimming in polluted water, including hepatitis and salmonella, according to SAS.
SWW said in a statement that it had spent more than £2bn on cleaning Devon and Cornwall's bathing waters, with an extra £20m this year.
"Unfortunately, during periods of intense rainfall, the system can sometimes become overloaded," it said.
West Cornwall Liberal Democrat MP Andrew George said: "If there's a discharge of this sewage volume on this occasion with what appeared to me to be an unexceptional storm, then this has the potential to occur on a very regular basis. Mitigation measures will be necessary."