'Extreme worry' over NHS Kernow £75m procurement plans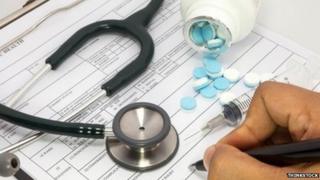 Around £75m worth of "non-complex" procedures could be privatised by NHS Kernow.
Services out to tender include trauma and orthopaedics - but not major trauma - general surgery, gynaecology and cardiology.
Royal Cornwall Hospitals Trust (RCHT) chief executive Lezli Boswell said the move was an "opportunity" but could also hit hospital budgets.
Joanne Kay of the union Unison, said she was "extremely worried".
NHS Kernow, which has a budget of £700m, is the clinical commissioning group (CCG) for Cornwall and the Scilly Isles.
Funded by government, CCGs buy health services on behalf of patients and can spend the money on NHS or private providers.
'Market dogma'
In a statement, NHS Kernow said some non-complex and outpatient procedures are currently carried out by the NHS but are not equally available across the county.
"NHS Kernow would like to see more of them happening in community settings such as GP surgeries and community hospitals."
It also said that major trauma services dealing with emergencies such as heart attacks, stroke and traffic accidents "were not being taken away from RCHT".
"The label of trauma in the context of this procurement is to improve the way people are treated for hand, foot, hip, knee, shoulder and elbow conditions," it said.
Joanne Kay, regional secretary of Unison Southwest, said money spent on the tender process would be better spent on patient care.
"It's £75m of NHS services, those day-to-day operations that thousands of people have every year.
"The cost of putting services out to tender can be up to 30% of the total cost and we think that money could be better spent on patient care by providing those services locally.
"There isn't any research that shows it saves money."
St Ives MP Andrew George said "market dogma" was being placed above patient interests.
"Any company from anywhere in the world can effectively bid for those bits of planned health procedures which they believe will make them the greatest profit," he said.
"If this leaves a fragmented Royal Cornwall Hospitals Trust with undermined services, it will also undermine its ability to respond to unplanned and emergency health needs."