Faulty boiler caused St Ives carbon monoxide death says coroner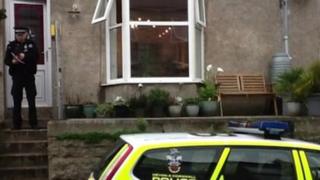 A woman died of carbon monoxide (CO) poisoning at her home, a coroner said.
The body of Gillian Adams, 60 was found in St Ives, Cornwall, by a builder and neighbour in February 2013.
A gas investigator told an inquest in Truro the appliance had ventilation and flue problems and it was uncertain when it had last been serviced.
In a narrative verdict, Coroner Barry Van den Berg ruled Ms Adams died as result of a faulty gas boiler. Three dogs also died from the poisonous gas.
Ms Adams' body was found on the floor of the Treliska Guest House in Bedford Road on 12 February last year.
Two dead dogs were found close to her and a third animal was discovered elsewhere in the property, the inquest was told.
The inquest heard a statement from neighbour Jane Hall saying Ms Adams had been in good spirits but her speech had sounded slurred the evening before.
High levels of CO were found by fire crews and tests were carried out on the boiler the day after her body was discovered.
Gas investigator Cary Marshall told the inquest the home's gas central heating boiler, which he estimated to be more than 20 years old, did not meet current gas installation regulations.
A large amount of pet hair and dust was found in the appliance's air intakes, more ventilation was required for a boiler of the power found in the house, and areas of corrosion showed that fuel was not combusting properly, he added.
Weather conditions affecting the flue and chimney also played a part in keeping CO gas inside the property instead of it being expelled, Mr Marshall said.
After the inquest, Mr Marshall said the case highlighted the importance of installing CO alarms and having such appliances regularly maintained.