Padstow National Lobster Hatchery tests DNA tracking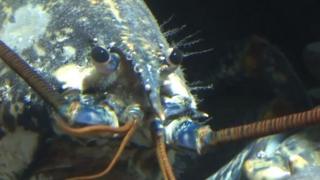 Scientists hope they have found a way of tracking lobsters released into the wild from a Cornwall hatchery by using the lobsters' DNA.
The National Lobster Hatchery at Padstow, which sends tens of thousands of baby lobsters into the wild every year, is testing the DNA tracking.
Tagging and marking are difficult because of the baby lobsters' size and lobsters shed and regrow their shells.
But like humans, each lobster has its own DNA genetic imprint.
The hatchery hopes they will be able to see how widely spread the lobsters are, if they are surviving and if they are integrating with wild lobsters or in-breeding.
Exeter University researcher Charlie Ellis, 30, who is leading the project, said: "Lobsters are tricky to track. They shed their shells and at the age we release them - about two to four months old - they are only an inch long.
"This project is very exciting because it enables us through DNA fingerprinting to recognise hatchery-reared lobsters in the wild."
Dominic Boothroyd, general manager of the hatchery: "The work that Charlie is doing is really exciting.
"I keep thinking of it in terms of when the microscope was first discovered. People could suddenly see a whole new world. It's exactly that sort of revolution.
"If stocks collapse and we need to restock the fishery this is developing the technologies we need to do so."