MP Andrew George asks voters to help choose bill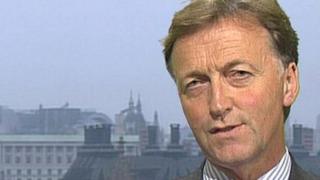 Proposals to give Cornwall the same powers as the Welsh Assembly could be discussed in Parliament after a St Ives MP came top in a Commons' ballot.
Lib Dem MP Andrew George has asked constituents which of three proposals should become a private members' bill, discussed in the House of Commons.
The other two proposals are: a mandatory nurse to patient ratio and more control over second homes.
Private members' bills provide a rare chance for ordinary MPs to create laws.
The vast majority of new legislation originates from the government of the day.
But few private members' bills become law due to the lack of time in the Parliamentary calendar and the annual ballot is always fiercely contested.
Mr George said: "I want the decision to put the best interests of Cornwall and Scilly at heart."
The higher the MP is in the ballot order, the more likely it is that their proposed legislation will be debated in the Commons in the coming months.
Between now and next April, when the current session is expected to come to an end, 13 Friday sessions will be given over for private members' business.