Cornwall carers fear for jobs in shake-up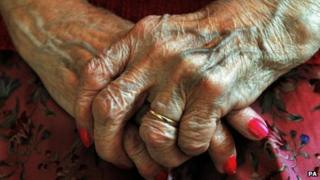 A shake-up of social services home care in Cornwall has left carers fearing for their jobs.
Cornwall Council has reduced the number of companies with home care contracts from 105 in 2012 to 29.
The council has asked firms to make new bids "to improve quality, value for money and geographic coverage".
Redruth-based Coastline Care, which lost its contract with the council in the bidding process, said the jobs of 30 staff were at risk.
"We are working as hard as possible to investigate how we can minimise the fall-out from the loss of this work," it said in a statement.
"If opportunities arise to transfer staff to other providers or other areas of the business in order to avoid job losses then we will, of course, work towards those solutions."
Under the new framework the council will commission care from 29 lead organisations who will be supported by 41 sub contractors.
'Absolutely terrified'
The carers' work involves visiting vulnerable people at home to help them with everyday tasks such as washing, meals and taking medicines.
Alice - who did not want her full name used - works for a company that lost its contract in the Camborne area.
She said: "It's quite scary for me and for the service users.
"We deal with a lot of vulnerable clients who are absolutely terrified because they don't know who is going to come in tomorrow to look after them or even if they are going to get anybody."
Cornwall Council said the new arrangements would be "closely monitored".
"Social care services in Cornwall are under ever increasing pressure, with a rising demand for services at the same time as a 33% cut in government funding over the past four years," said Jim McKenna, the council's cabinet member for health and adult care.
"The council recognises that this will be a very difficult time for those providers who were unsuccessful."