Land's End Airport closing for runway work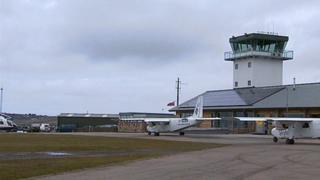 Land's End Airport is due to shut for more than two weeks next month as part of work to build hard-surface runways.
The airport will close from 4 July to 20 July during which time Skybus services will fly from Newquay.
Land's End had seen "severe disruption" over the last two winters as bad weather affected the existing grass runways, staff said.
Airport managers wanted to go ahead with the resurfacing before the peak of the summer season, they added.
Airport owner the Isles of Scilly Steamship Company said it wanted to complete the work in July rather than wait until the autumn and risk bad weather affecting the project.
The company is the sole provider of commercial flights to the Isles of Scilly.
Land's End Airport was closed to flights for three months in the winter of 2012/13 when the airfield became waterlogged.
About £1.3m from the European Regional Development Fund has been confirmed for the £2.6m project, the airport's owners said.