Row over St Levan Chapel graveyard closure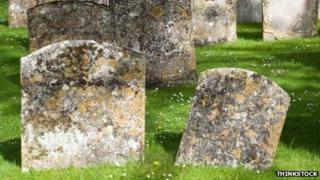 The graveyard of a condemned Methodist chapel in west Cornwall has been closed to visitors because of safety concerns about the building.
Church officials said the gates to St Levan Chapel, near Porthcurno, had been locked after advice from insurers.
Relatives of people buried in the cemetery have criticised the move, saying they cannot tend to their loved ones' graves.
The church said options were being looked at to resolve the situation.
'Bitter, angry'
The chapel, built in the 1860s, closed last year. As well as repair concerns, it has also experienced falling attendance numbers.
Susan Stone, originally from St Levan, travelled from Dorset over the weekend to place her mother's ashes beside her father's grave.
She said family members had to stay a safe distance from the building while church officials dealt with the ashes.
Local resident Geoffrey Priest said he thought there must be a solution to the problem other than prohibiting access.
"I can understand the roof is unsafe, but I don't understand why they can't rectify it," he said.
"I'm bitter, angry and upset. My dad is in there, but we can't get in there to tend his grave."
Mr Priest suggested taking down the building and turning the site into a memorial garden.
Julian Drew, superintendent minister of West Penwith Methodist Circuit, confirmed insurers advised closing the site, despite it being "upsetting for them [families] and me".
He said: "The graveyard is susceptible to falling slates. It's what we have to do."
He backed the memorial garden suggestion but said the church was in the "process of completing an options appraisal" of what to do with the listed building.
He said: "It's a very painful and costly process but we'll do the best we can."