Queen's Birthday Honours List: Candy Baker becomes MBE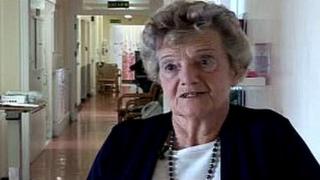 A hospital charity worker who has "campaigned tirelessly" in Cornwall was recognised in the Queen's Birthday Honours List.
Candy Baker, 81, chair of the League of Friends for Cornwall, is among a number of people from the county honoured.
Ms Baker became an MBE for services to the community after spearheading a bid to raise £1m.
She said she "couldn't have done it without those who joined me in the effort".
Since moving to Cornwall in the late 1970s, Ms Baker has campaigned to support the local NHS and is chair of the countywide and Stratton Hospital League of Friends.
Through her galvanisation of the local community and through fundraising she set the League of Friends to raise £1,000,000 towards improvements at Stratton Community Hospital in Bude.
Ms Baker said: "I was just shocked to receive the letter from the Cabinet Office. I work with a lot of very good people, and without them I couldn't do what I do.
"I know I did the initial bit of work in getting the million-pound appeal going, and people said I was mad to attempt it - but really, I couldn't have done it without those who joined me in the effort."
The appeal is on-going and currently stands at £650,000.
Other people in the county to have been recognised include Amanda MacManus, deputy private secretary to The Duchess of Cornwall, to receive the Royal Victorian Order.
Achieving the MVO accolade was Wing Cdr Richard Pattle, the Royal Air Force Master of the Household to The Prince of Wales and The Duchess of Cornwall.
Numerous residents from the county achieved MBEs, including Peter Vernham Clarke a volunteer for The Farming Community Network for services in Cornwall.