Eden Project in Cornwall returns to trading surplus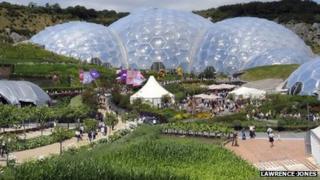 Bosses at Cornwall's Eden Project are hoping they have turned a corner with the attraction back in the black after its worst-ever year.
Eden has told staff its new accounts, soon to be filed to Companies House, showed a trading surplus of just over £2m for the year to the end of March.
That compares with a loss of about £1.4m a year previously.
Visitor numbers have also increased, according to a spokesman for the project.
He said visitors for the first five months were "a couple of percent" higher than a year before, despite poor weather in the early part of 2014 and negative headlines about the Dawlish rail collapse, which cut off trains to Cornwall.
Eden, with its huge dome-shaped greenhouses, opened in 2001. In its first 10 years, it welcomed more than 13 million people.
But 2013 saw only 858,000 visitors - its lowest ever.
There has also been a focus on cost cutting with 68 staff redundancies during 2013/14.
One encouraging sign now is that spend per head by visitors has risen. Plans for the year ahead include a youth hostel on the site.
Finance director David Harland said: "These results show that Eden has turned the corner after a difficult year in which we had to make some very hard decisions.
"We have lost valuable staff in a painful restructure process but by cutting costs across the board we have ensured that the project is now on a very sound footing."