Fistral Beach high tide bathing ban due to sharp rocks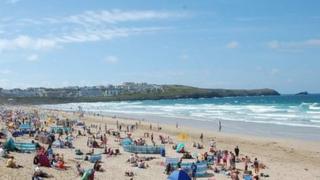 Bathers have been banned from swimming on a Cornish beach during high tide because of sharp rocks exposed as a result of the winter storms.
Lifeguards on Fistral Beach, Newquay, said a jagged reef had been left exposed after storms washed sand away.
The Royal National Lifeboat Institution (RNLI) said it was "simply not safe" to swim in any waters at high tide over the submerged rocks.
Red flags are being put in place to warn beach users not to swim.
RNLI supervisor Lewis Timson said: "We can't safely have a bathing area over the rocks when the tide comes in. For periods of the day we are having to put flags up, which is unfortunate."