Coach firm Carmel appeals against losing its licence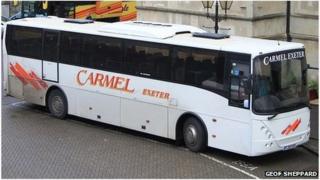 The Devon coach company that lost its licence over "woeful failures" says it will appeal against the decision.
Carmel Coaches is still continuing its schools services until 31 July.
Devon County Council said it would appoint independent vehicle engineers to carry out spot-checks on the coaches.
Tony Hazel, director of Carmel Coaches, said he thought the report was a "harsh decision" and was "happy our vehicles are safe".
One of the company's vehicles was involved in a coach crash at Looe in Cornwall on 13 May in which two people died.
The Traffic Commissioner, who chose to revoke the licence, said she had gathered her evidence before the crash and her decision did not reflect the incident.
Mr Hazel said: "Until the recent tragedy in Looe, where in fact our coach was not found not to have contributed to the accident, I can say we've been in business for 30 years without a passenger suffering any injury in that time and I believe that is a very acceptable safety record.
"I'm happy our vehicles are safe and I would be happy for my grandchildren to travel on the coaches, which they regularly do."
'Independent engineers'
Mr Hazel said he "admitted there have been some shortcomings" and that after being called to the public inquiry took "drastic action".
He said he would do all he could to save his family business, adding he did not "intend to give up without a struggle".
A council spokesman said it was waiting to find out why the commissioner chose not to issue an immediate revocation.
A Devon County Council spokesman said: "We are appointing our own independent vehicle engineers to ensure that the Carmel coaches used on our school routes meet all the statutory safety requirements. We will follow this up by carrying out unannounced spot checks on coaches at schools.
"We are also studying in detail all the concerns she had about management and fault reporting."
Sarah Bell, Traffic Commissioner for the West of England, made an order to revoke its licence and those of two of its directors.
Issues included serious defects not being fixed and poor record-keeping of safety issues over a number of years.