Falmouth's £25m spa complex plans announced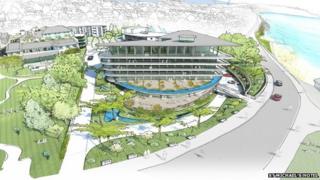 Plans for a £25m spa and health complex that developers claim could create more than 70 jobs in Falmouth, Cornwall have been developed.
Three restaurants, a health club and more than 50 apartments would be built on the Falmouth Beach Hotel site, which was damaged in a fire in 2012, if proposals are approved.
Owner Nigel Carpenter said the build will "resemble an ocean-going liner".
The plans will be submitted to Cornwall Council later in June.
Mr Carpenter said: "We hope to develop an outstanding resort which will create many jobs for local people and bring a lot of business to the town."
Six woodland eco-lodges and gardens are also included in the plans as well as a two-storey underground car park.
If approved, building work could start in January next year.