HMS Penzance forced by bad weather to moor in Falmouth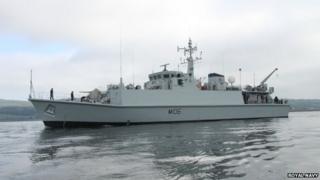 A Royal Navy ship due to sail into its namesake Cornish town has had to dock elsewhere because of bad weather forecasts, the Royal Navy says.
Mine hunter HMS Penzance is instead mooring in Falmouth for three days.
It means the ship will not be open to the public, but planned tours would go ahead, its commander said.
Crew members will also take part in a memorial ceremony in Penzance on Sunday to commemorate the sinking of HMS Penzance in 1940, he added.
Although "regrettably" not opening to the public, tours for local schools and sea cadets from Penzance would still go ahead on on Saturday, Lt Cdr Nicholas Unwin said.
He said: "It is hugely disappointing that the weather conditions have prevented me from bringing the ship into the heart of Penzance.
"But the ship's company and I know we will still be able to reaffirm our strong links between the town and the ship while berthing in Falmouth."
On Sunday, members of the ship's company are due to join Penzance's mayor and local people for a service in memory of sailors who died on the third HMS Penzance during World War Two.
The vessel went down when it was torpedoed in the western Atlantic on 24 August 1940, killing 90 crew.