Cornwall hospital trust board member resigns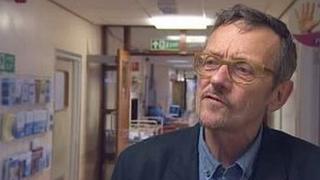 A board member of the Royal Cornwall Hospitals Trust (RCHT) has resigned "on principle" over the decision to contract out hotel services at the hospital.
Rik Evans confirmed his resignation after more than six years was in protest about the move.
Cleaning, catering and housekeeping are included in the contract.
The RCHT said they "firmly believe that we have made the right decision for the patients and families we serve".
In a statement Angela Ballatti, the RCHT Chairman, said "We want to thank Rik Evans for his service to Royal Cornwall Hospitals NHS Trust and respect his decision to resign today on principle about potential changes to the way hotel services are provided."
'Increase bank balance'
A total of 4,500 people signed a petition against the decision.
Mr Evans said: "Sometimes you have to take a stand on an issue you think is important.
"The lowest-paid employees are going to be put out to a private company... [which] simply want to increase their bank balance.
"We take for granted the NHS in this country. Now is the time for people to wake up. This will not be the last privatisation at RCHT.
The trust said it had a "preferred service model and provider" but would say more in a few weeks.
Its statement added: "Our priority will always be to continually improve services and we will continue to make decisions based on quality and sustainability."
Mr Evans took on the role of chairman of the Phoenix Stroke Appeal which raised £500,000 for stroke equipment and services in Cornwall.
He has 25 years' experience on other health boards.