Royal Navy takes over Culdrose air base Hawk jets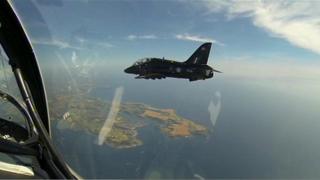 Fast jets operating out of the Royal Naval Air Station at Culdrose in Cornwall have been returned to full military control.
The 14 Hawk T1 jets now make up 736 Naval Air Squadron and are flown by military and civilian pilots.
Until recently the aircraft were operated by private contractor SERCO which still provides three of the civilian pilots.
Their role includes acting as target aircraft to train ship crews.
Lt Cdr Tim Flatman, the squadron's commanding officer, says they will also help train pilots for the new Queen Elizabeth aircraft carrier.
"We pretend to be enemy aircraft and missiles, primarily working with the ships in the south coast danger areas," he said.
"Whatever they need us to simulate we try our best to do that for them."
The Hawk is the same type of aircraft as those flown by the Red Arrows air display squadron.