Call for more IVF help for couples in Cornwall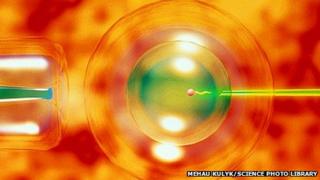 Couples in Cornwall who struggle to have a baby should get more than one free IVF cycle on the NHS, campaigners have said.
The government's health advisers said too many areas were ignoring guidelines that infertile women should get three IVF cycles.
The cost to the NHS for an IVF cycle is £3,600, with additional drug charges.
A spokesman from Cornwall's clinical commissioning group said the Cornwall and Devon-wide policy was under review.
The current policy restricts women aged between 23 and 40 to one treatment after two years of trying to conceive.
Zoe from Truro, who received a cycle of NHS-funded IVF, said: "I used to be so nervous, just desperate for it to work.
"When you're in that situation you want to be given the best chance."
Dr Colin Philip, the chair of the Kernow clinical commissioning group said it inherited the existing policy from the former Primary Care Trust.
Dr Philip said: "You give to one area, you have to take from another. The question is how do you make that balance across all those clinical areas?"
In 2004 the government's health advisers at the National Institute for Health and Care Excellence (NICE) issued guidance that infertile women should get three IVF cycles
Gillian Leng, the deputy chief executive of NICE said she was "very keen" to see that guidance being adopted nationwide.
"It's not popular that people know where they live can influence how much treatment they can have," she said.
NICE said its research had shown three cycles was the "most clinically and cost effective approach".
The county's clinical commissioning group said its review of the current policy should be complete later this year.