Cornwall Council staff pay deal approved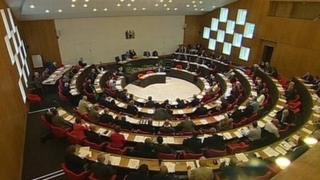 A deal negotiated between unions and Cornwall Council over staff pay has been approved in a ballot by unions.
The proposals include introducing a living wage and retaining current redundancy pay levels and national terms in relation to sick pay.
After all the lowest-paid staff have their salaries raised to a living wage level, all staff will have pay frozen for three years.
Cornwall Council said the proposals would save it about £5.4m.
'Mature decision'
The Living Wage, currently £7.65 an hour, will come into effect next April.
Council chief executive Andrew Kerr said a "constructive approach" was taken by the local and regional representatives of Unison, GMB and Unite during the negotiations.
He said: "The outcome of the ballot is very significant. It is the second time in three years that we have reached agreement on a pay freeze, which will assist the council to make savings and preserve front-line services."
Unison regional organiser Stuart Roden said the approval of the deal by union members was a difficult but "mature decision".
He said: "We hope that the savings made will also assist in protecting services and jobs which may otherwise have been cut."
The Liberal Democrat-Independent controlled council has to save £190m in the next five years.
It said £400,000 had already been saved after a re-organisation of its management structure reduced the number of directorates from six to three.