Mesolithic objects found during Land's End excavation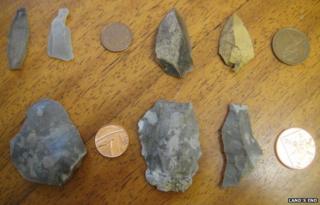 More than 60 objects have been unearthed by archaeologists during an excavation at Land's End in Cornwall.
The excavation was prompted after wild rabbits uncovered flint scrapers and arrowheads while burrowing, managers of the attraction said.
A preliminary one-day dig in a one-metre square area uncovered Mesolithic hammers, arrow heads, scrapers and waste from a flint tool-making factory.
The Mesolithic period dates from 10,000 to 4,000BC.
Land's End said it was to work in partnership with Big Heritage UK over the next few years to carry out further investigations at the site.