Mullion Harbour repairs to cost £250k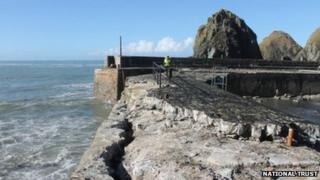 Repairs to a harbour in Cornwall which was damaged by the winter storms are likely to exceed £250,000, the National Trust has revealed.
The figure for Mullion Harbour is in addition to £300,000 spent in 2007 and a further £95,000 in 2012.
The trust said breakwaters had stood up well but repairs would begin this week.
It previously said the harbour was exposed to the "full fury" of gales which had been "intense and incessant", general manager Alastair Cameron said.
In 2005, the trust carried out a study that looked at the structure's strength and the likely impact of sea-level rises and future storms on its long-term future.
It pledged to continue to maintain it until a time when repairs were no longer viable.
Speaking of the recent damage, the trust said the breakwaters had "stood up well to the exceptional conditions and whilst significant damage has been inflicted, the integrity of the structure of the walls is intact".
General manager Alastair Cameron said: "The storms this year were intense and incessant and, whilst the conclusions of our survey nearly 10 years ago still stand, we are pleased that the harbour has not suffered too severe damage this time."