Wadebridge Sainsbury's plans are put on hold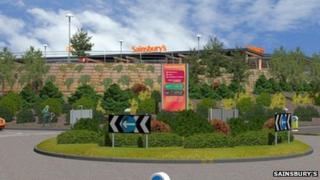 Sainsbury's has halted its plans to build a supermarket in Wadebridge this year.
The company issued a statement saying it would complete work on the site at Higher Trenant to make it safe and secure.
The retailer said it was cutting back on the number of new stores to be built in the UK this year.
But it hoped to make another announcement in the next few months about plans for the Wadebridge store.
'Quite baffling'
Adrian Jones, chairman of Wadebridge Chamber of Commerce, said he was "surprised" by the announcement.
He said: "I am slightly relieved it's not going ahead, but I think it will happen at some point.
"If it's completely mothballed I find that quite baffling as Sainsbury's started the building work."
The supermarket chain said: "We can confirm that work on our planned Wadebridge store will not be completed this year.
"We recently announced a small reduction in the number of new stores to be built in 2014 and have with regret decided not to progress plans.
"We will be reviewing our programme of new stores for future years and hope to be able to make an announcement about our plans for Wadebridge in the coming months."