Alan Jeal death: Headphones found in victim's mouth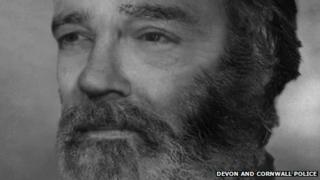 Police investigating the death of a man whose naked body was washed up on a Cornish beach have revealed that headphones were found in his mouth.
Alan Jeal's body was discovered on Perranporth beach on 25 February. He had multiple injuries.
There were some signs of possible drowning but police say they are still treating his death as suspicious.
Police say they are keen to talk to anyone who may have interacted with Mr Jeal during online gaming sessions.
Mr Jeal, 64, from Wadebridge, had injuries to the chest, head and hand. He also suffered significant internal injuries.
Police said headphones were found in his mouth as well as a rolled-up sock. The white Apple iPhone or iPod-style headphones were said to be looped around the back of the sock and were trailing out of his mouth.
Police are still searching for Mr Jeal's Barclays current account bank card, a Barclaycard credit card, a Nokia 1110i mobile phone, a third generation iPod shuffle and the rest of the clothing he was wearing.
Mr Jeal had recently bought a weighted training vest and ankle weights but they have not been located.
DCI Dave Thorne, of Devon and Cornwall Police, said: "There are a number of people we are keen to trace, including three people seen with him at [a] bus stop in Truro."
Linda Danielis, Mr Jeal's sister, said: "I never said goodbye or gave him a final treat of any kind. If something happened at the end where he needed help and support I was not there to help.
"I want to wake up and think it is all a nightmare, but realise it is not and there is no happy ending."