Cornwall eco-town plans submitted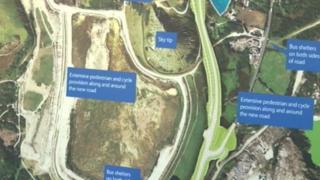 Revamped plans to develop an eco-town in Cornwall have been published by the council.
The original plans, approved five years ago, were to create 5,000 homes around redundant clay pits in St Austell.
The project stalled because of the economic downtown, but new slimmed down plans have been submitted after a £1.4m grant from the government.
The proposals include 1,500 homes, a primary school, green space and a new town centre and office space.
Andrew Dean, from campaign group No Eco Town, said it was wrong to call it an eco-town.
He said: "I think we need to drop this idea of [an] eco-town, everybody says eco-town and thinks it is going to be great and environmentally friendly.
"We are not against building houses, we are against building houses on this site as it has hundreds of permissive rights of way. It is a wilderness up there."
Controversy 'natural'
A spokesman for the project said the aim of the scheme, which is being led by Cornwall Council, the landowner Imerys and the developer Eco-Bos, is to bring high quality housing and new jobs to the area and to regenerate redundant industrial land.
Councillor Julian German said they had worked with the public throughout the project.
He said: "Public consultation is an important part of this project and we look forward to hearing views.
"There will be some controversy but that is natural, we have worked closely with residents, we have formed people's panels and they have looked at scenarios and helped to bring proposals forward."
Comments made during the consultation will help re-design the plans before they are submitted for approval in December.