River Fal mussel harvest fears over Food Standards Agency ban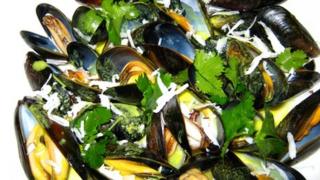 Mussel farming has been banned on a Cornish river after concerns were raised in samples of shellfish flesh.
Shellfish producers in Cornwall say the ban covering the River Fal could lead to job losses.
The ban has come after the Food Standards Agency (FSA) downgraded shellfish flesh samples in Ruan Creek and King Harry Reach from Grade B to C.
Two wet winters have resulted in sewage washing into the area's waterways, leading to pollution concerns.
The Truro Port Health Authority said it was monitoring the situation closely.
'Enormous demand'
A Grade C rating means it is unlawful to harvest the mussels as there may be a risk to human health, even after the cleaning process.
Mark Mercer, from the Duchy Oyster Farm, said: "We're now at a point where we were about to harvest 40 tonnes a year. That is now impossible.
"We're applying to have an official relay site on the Helford [River], but we have got a potential downgrade for mussels on the Helford as well.
"If that goes ahead, the stock will go to waste. The lead on could result in lost jobs."
The effects would be felt as far as London where there is "enormous demand," he added.
The FSA said: "EU regulations stipulate mussels are harvested from areas that meet relevant health standards.
"If levels of contamination exceed the required criteria the FSA will take action to protect public health."
Gary Cooper, from the Truro Port Health Authority, said: "We are monitoring the situation closely. We want to facilitate business but at the same time we have to ensure that adequate protection for public health is in place."
Mr Cooper said the ban would be in place for at least 12 months.