Benefactor leaves money for new lifeboat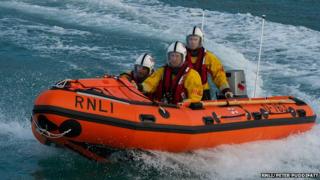 Volunteer rescuers at a Cornwall lifeboat station have named their new boat after the mother of a man who left money in his will to pay for the vessel.
The formal naming and dedication of the £39,000 craft took place on Saturday.
John Chappell, RNLI operations manager at Sennen Cove, said the legacy was "generous".
The D-class inshore lifeboat was named Amy Brown after Michael Brown's mother.
"It's always a very special occasion when we welcome a new lifeboat to a station," said Mr Chappell.
Amy Brown replaces the station's former D-class inshore lifeboat, Spirit of the RLC, which was on station from 2004 to 2013.
During that time the lifeboat launched 61 times and rescued 34 people, saving 11 lives.