Muller Wiseman Pensilva dairy jobs threatened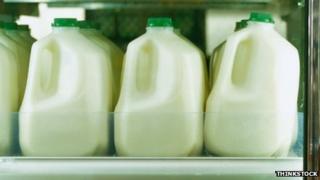 Consultations have begun into the future of nearly 60 jobs at a dairy distribution depot in Cornwall, managers have confirmed.
Muller Wiseman Dairies said it was beginning a 30-day statutory consultation on the future of its depot at Pensilva and its 58 jobs.
The company said it was a result of a reduction in the amount of milk supplied from the depot.
The Usdaw union said it was "deeply concerned" about the depot's future.
Muller Wiseman said some customers were now supplying their stores through their own regional distribution centres.
It meant smaller deliveries made to individual stores via Wiseman were unnecessary, it said.
Managers said if the depot was closed some employees would be offered an opportunity to transfer to a depot in Bridgwater, Somerset.
Dairy farmers would be unaffected by any change, it added.