Woman sexually assaulted by gang in Penzance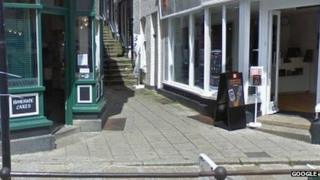 A woman was sexually assaulted and attacked by a gang of men in a west Cornwall town.
The 23-year-old was walking up the Arcade Steps in Penzance between 23:45 BST Saturday and 00:45 on Sunday when a group of five pushed her on to the ground from behind.
She was then punched, kicked and sexually assaulted before she managed to get up and run off, officers said.
Police have appealed for witnesses to come forward.
'Not premeditated'
Det Con Yvan Clarke, from Devon and Cornwall Police, said: "She had left a group a of friends earlier and left the group to walk home.
"One male pushed her over and another attempted to pull down her leggings, but she managed to kick and get away.
"Obviously, she's shaken by this and has some injuries from where she fell over, and it has shaken her confidence somewhat to be out on her own at night."
However, he added that it was "not believed to be a premeditated attack".
He said: "I would imagine the males probably had alcohol on board and saw an opportunity. I wouldn't have thought it was a group of predators.
"They're bound to have discussed it amongst themselves or someone. They should do the right thing and tell the police."
Officers are trying to trace CCTV footage.