Saltash man given parking ticket on 'own land'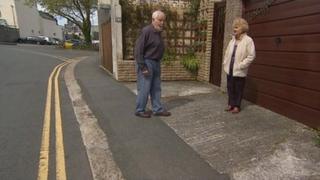 An 81-year-old man has been issued with a ticket for parking on land he says he has owned for 42 years.
Cornwall Council said the ticket was issued because Ken Walker-Smart parked on the pavement.
Mr Walker-Smart said modifications made to the road outside his home in Saltash in recent years make it look like pavement but he owns the space.
He said he has the deeds to prove his claim but believes the council is ignoring him.
'Harry Potter'
The parking warden "may have been new to the area", said Mr Walker-Smart.
"What the girl insinuated was anyone with a pushchair would have to go on to the road but unless you were Harry Potter you would have to go on the road anyway," he said.
"We have deeds. We can prove it all. I've written a letter but they take no notice. Our county councillor fully concurs with me and has told me to carry on.
"They refuse to drop it for some reason."
Mr Walker-Smart said his original garage opened on to the public road but builders moved the garage back to create a parking space.
John Haskins, Cornwall Council's parking operations manager, said the ticket was issued because the car was parked on a pavement.
He said private property can form part of the highway and in those situations regulations still apply.