Retail plan for Truro City football ground revealed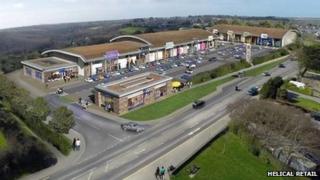 Truro City's football ground could be transformed into a retail park under new plans formally announced.
Helical Retail presented its plans to develop the land at Treyew Road in Truro at a meeting on Thursday night.
It believes the park, specialising in furnishing and other non-food businesses, could bring in about £16m and 150 jobs to the local economy.
The football club has struck a deal to develop a new ground and training facility as part of the proposals.
Pete Masters, chairman of Truro City, said: "At some point the Treyew Road site will be developed.
"We are trying to find a solution where the club gets a new ground and enhanced facilities, and Truro gets a development that satisfies everybody's needs."
Previously, the club also expressed an interest in being part of the Stadium for Cornwall plan which development company Inox wants to build at Threemilestone near Truro.
A new piece of land has also been identified as a potential site for the football club at Nansavallan Farm in Killiow near Truro.
The club said this was one of three possible sites.
Jonathan Cox, managing director of Helical, said a consultation would be carried out which he hoped would help people "see the value of the scheme".
"There are retailers who are not in Cornwall at the moment and want to be. We will potentially create 150 jobs on the Treyew Road site," he said.
Turley planning consultants, which is also involved in the project, said it had yet to enter the formal planning application stage.