Beautiful Pearl moth found at Mount Edgcumbe estate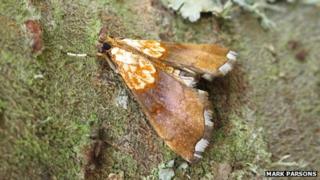 One of the UK's rarest moths has established a breeding colony in Cornwall, a conservation group has revealed.
The Beautiful Pearl, previously found only in Kent, was discovered at Mount Edgcumbe, near Torpoint.
The fingertip-sized moth has yellow and orange speckles on its upper wings.
Butterfly Conservation said it found several caterpillars at the site last summer but was forced to wait for them to mature to confirm their identity.
Mark Parsons, head of moth conservation at the charity, said: "This is marvellous news. It's got a long history in woodlands in Kent.
"In 2011 a Beautiful Pearl was seen at Mount Edgcumbe, and another one in 2013. To our pleasant surprise we then found caterpillars."
Nick Butcher, deputy park manager at Mount Edgcumbe Country Park, said: "All the staff were excited after several caterpillars were found last August.
"Over the winter months we waited like expectant parents for the colony to be confirmed. Now that it has, we will work with Butterfly Conservation to try and enhance the habitat so this population can flourish."
Butterfly Conservation said four species of butterfly and more than 60 moth species became extinct last century, with the numbers of moths in Southern England declining faster than in any other part of the country.