Helston Community College block building plan scrapped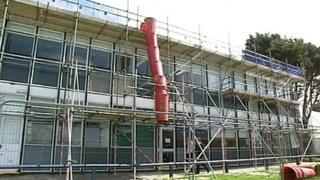 Multimillion-pound plans to rebuild a crumbling block at a Cornish school have been scrapped by senior councillors.
The headteacher of Helston Community College, said he was "deeply frustrated" at the news.
Council officers said with a £59m maintenance backlog in council-run schools the money was not there.
Dr Pat McGovern, the headteacher said it was a running battle to keep classrooms safe for pupils.
Dr McGovern said: "The situation is really bad, it's getting to the point where it's not fit for purpose. We've got scaffolding, we've had to bolt up all the windows.
"There are three incidents of plate glass windows falling into the building. Each time we've been lucky there have not been children around."
Dr McGovern said in another block at the school, so much rain had come in "you could have canoed down the corridor".
The school said it was told in July 2012 Cornwall Council's cabinet had agreed the best solution would be a complete rebuild of the block.
Dr McGovern said the decision by senior councillors to scrap the rebuilding had left him "deeply frustrated and angry".
Phil Martin, the Independent Councillor for Helston North, said: "It's like taking a child into a sweetshop then just before they put the sweet in their mouth, it's taken away from them."
Andrew Wallis, cabinet member for children, schools and families, said: "The 2012 recommendation has always been subject to getting the funding. We have looked high and low but we have been unable to secure the funding.
"It is a huge disappointment but there is no other option. I wish things were different."
A Department for Education spokesman said: "Over the course of this Parliament we are spending eighteen billion on building and refurbishing school building. This includes more than four billion on the Priority Schools Building Programme.
"Details of how schools will be selected for this will be published shortly."
Mr Wallis said the council was hoping to "tap into this money, not just for Helston but for all schools that need serious investment".