Group fear health funding cuts in Cornwall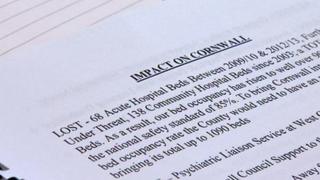 A hospital in Cornwall could close and other services axed after years of chronic underfunding, a report claims.
Campaigners Health Initiative Cornwall (HIC) said social care and health funding in the region was below the national average, leaving a £220m black hole and the loss of nearly 200 beds.
The group called for better integration of local services to make savings.
NHS Kernow and Cornwall Council said they were both committed to integrating services and would work with the HIC.
In its report, the HIC said services at St Michael's Hospital in Hayle and other community hospitals were at risk of closure because of funding pressures.
The group said the Frailty Ward at Truro's Royal Cornwall Hospital was also at risk, along with increasing pressure on Cornwall's acute services.
It said the county had lost 68 acute hospital beds, with a further 30 under threat. In addition more than 130 community hospital beds had been lost since 2003.
Local authorities allocate social care funding.
The HIC said that in 2012-13 the average "per person spend" by unitary authorities in England, for those aged 65 and over, was £772.
The report said Cornwall Council spent £512 per person which is 33% less than the national average.
The report concluded there was a need for just one body to be in charge of all health and social care in Cornwall.
The HIC said there were currently 169 people on various health boards and at Cornwall Council, making decisions.
It also claims too much allocated funding is going out to pay off historic debts.
'Significant cuts'
A spokesperson from the HIC said: "It will get worse. Our only hope is that NHS England is talking about changing it."
Councillor Jim McKenna, the council's cabinet member for health and adult care, said the authority was "committed to protecting vulnerable people in Cornwall".
He said: "Over the past three years we have worked hard to provide services to older people and to people with physical disabilities and learning difficulties against a backdrop of significant cuts in government funding.
"In 2011 we increased the budget for Adult Care and Support by an additional £4m and last year this budget was frozen while other council services had to find significant savings.
"Unfortunately the need to save a further £196m over the next five years means that we have been forced to look at all areas of our spending, including adult social care.
"We know that to improve the quality of services at the same time as saving money we will need to do things differently and are already working with our partners to integrate health and social care services."
Andrew Abbott, NHS Kernow's Director of Operations, said: "Under our Pioneer programme, Living Well, we have set an ambition to integrate the commissioning of health and social care, to bring together elements of the health and social care budgets that have been separate in the past.
"We do have a share of a national legacy for old Continuing Healthcare claims that must be paid. We are advised that this will be in the region of £2.7 million."