Cornwall community bus group fears for its future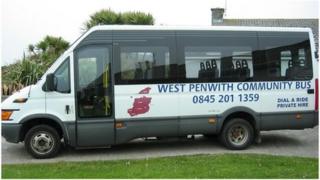 Operators of a community bus service in Cornwall say they are worried about the long-term future of rural bus services.
West Penwith Community Bus Association has just lost its Cornwall Council subsidy for two routes and gained one.
The council, which has finished reviewing bus company contracts, said it would keep as many as it could.
The 10-year-old service, which covers the Land's End peninsula, is one of 20 community bus services in Cornwall.
Community services are owned and operated by local community groups and services are provided on a not-for-profit basis.
Spokesman Spencer Pritchard said: "You do it for the love of it. There's nothing in it personally, but I know what a void it would leave if we stopped tomorrow.
"No-one would would fill certain routes."
The government said it was funding free bus passes and giving money to bus operators to help keep prices down and this was protected until 2016.