Ancient monument Carwynnen Quoit rebuilding starts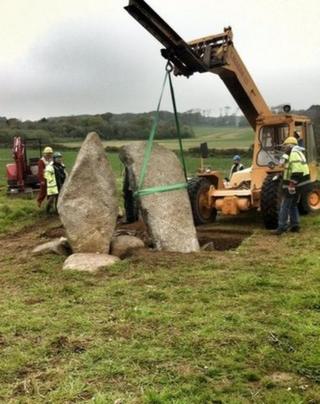 Work to rebuild a collapsed ancient Cornish monument has started.
Carwynnen Quoit, or Giant's Quoit, a 5,000-year-old burial chamber near Troon, collapsed in 1966.
The first stones have been re-erected by owners the Sustainable Trust which bought the site in 2009. The cap stone will be replaced on 21 June.
Restoration follows a series of archaeological digs to establish how the scheduled ancient monument should be reassembled.
According to the trust, Carwynnen Quoit is among 12 similar monuments in Cornwall.
Project manager Pip Richards said: "It's really popular because it's the only one in the area.
"Camborne, Pool and Redruth have lost so much with urbanisation that people are really pleased we are doing something with this ancient monument."
The burial chambers, also known as dolmens, are thought to have been covered in earth which has eroded over the years.