Divers repair rock hit tugboat in Fowey Harbour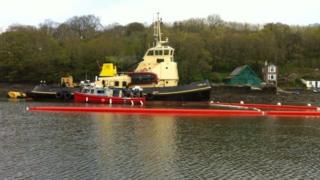 Divers have been repairing a tugboat which hit rocks while leaving a Cornish harbour.
The Cormilan, which weighs about 35 tonnes and is 92ft (28m) long, was damaged at about 03:30 BST on Tuesday.
After hitting the rocks, the crew navigated the tug back to her berth in Fowey Harbour, said Will Mitchell, the chair of Fowey Harbour Commissioners.
Cornwall Fire and Rescue Service used pumps to keep the vessel afloat.
No-one was injured and the boat was surrounded by anti-pollution booms.
The tug, which was travelling to Plymouth, has a 6in (15cm) long hole which is about 2in (5cm) wide.
A spokesman from the commissioners said commercial divers had been called in to investigate the extent of the damage to the tug.
The Marine Accident Investigation Branch (MAIB) has been informed and the habourmaster will initially investigate the incident.