Cornwall councillor Terry Wilkins in false MBE claim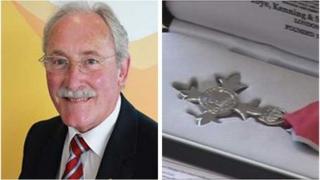 A Cornwall councillor is facing calls to step down after he falsely claimed to have been appointed a Member of the Order of the British Empire (MBE).
Terry Wilkins, Conservative councillor for Illogan, appeared on Cornwall Council's website as Terry Wilkins MBE.
But the honours authority said it had no record of Mr Wilkins holding the title.
He said he was the victim of a hoax by a former colleague, which led him to think he had been awarded an MBE.
Mr Wilkins, a Cornwall councillor since 2009, has been using the title MBE in emails and the title was included on Cornwall Council's website until Thursday.
Fellow Illogan parish councillor Stephen Richardson, of Mebyon Kernow, said: "The victims are the people who have been misled by him claiming to be an MBE.
"He is not a suitable person to represent Illogan. I believe he should step down."
'Unwitting embarrassment'
Mr Wilkins told BBC News he was not considering resigning.
"I have sent a statement to all councillors and profusely apologised for unwittingly causing any embarrassment," he said.
Mr Wilkins said in 1995 he had received what looked like an official letter confirming the award and a medal when he was a special constable with the Metropolitan Police in London.
But he had "put the medal in a drawer" and had not attended Buckingham Palace for the investiture because he was "embarrassed".
He had used the title since he was elected on the advice of wife Sue.
"I have always been against using titles, but she felt we ought to use it," he said.
But after being alerted to the mistake by local people, he discovered he had been deceived by an "aggrieved" ex-special constable in an "elaborate and malicious hoax".
He said: "I am devastated, but in a way I am relieved because it takes a lot of pressure off me at certain functions."
'Completely innocent'
He said he had removed the title MBE from emails but one sent to the BBC after the revelations on Thursday included the title.
The Central Chancery of the Orders of Knighthood, which oversees the honours system, said: "Despite a search we can find no trace of any living person with the name Terence (or Terry, Terrence or Terrance) E Wilkins having received an MBE or any other British honour for which we hold records."
Mr Wilkins also admitted his LinkedIn profile page saying he had an Open University degree 2:1 (pending) in Health and Wellness was false.
He said he had been "playing a game" against another person who he did not identify.
"This person is jealous and I want to embarrass him," he said.
"I am completely innocent."
Cornwall Conservative Party said it was conducting an investigation.
The council's Conservative group leader, Fiona Ferguson, said there was "very understandable public concern" about the revelations.