Rat reports increase in Cornwall, council figures reveal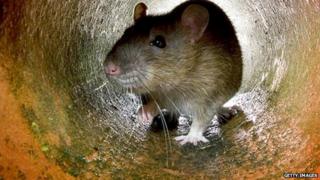 The number of rats being reported by the public across Cornwall has increased by almost 50% in the past 12 months, council figures have revealed.
The figures from Cornwall Council show complaints went up from 206 in 2012-2013 to 304 between 2013-2014.
It comes after the authority scrapped its free pest control service for domestic premises in 2011.
Pest control expert Steve Clemo said he thought the cutbacks have had an impact.
Mr Clemo, from Hayle-based pest and vermin control service Pestakil, said he had seen a "knock on effect" from the council cuts.
"I would say an increase of 20%. It could be a result of cutbacks in council budgeting.
"The service was discontinued. Since then numbers have increased," he said.
Cornwall Council said it still had a duty to investigate complaints of rats in public areas or a neighbour's garden.
Altogether in 2013-2014 the authority received 304 complaints regarding rodents and issued seven enforcement notices and dealt with another 297 complaints informally.
'Other factors'
Kev Brader, a senior environmental health officer at Cornwall Council, said the number of pest complaints received should be compared against the number of service requests received prior to the reduction in the service.
He said in 2009-2010 the council received 806 service requests when the council provided a free pest control service in domestic premises.
Since then the council has seen a reduction in complaints of roughly 60% since 2010.
Mr Brader said there were other factors that could be linked to the increasing numbers of rats.
"There are a number of factors to consider, including weather and human behaviour like using bird feeders and securing rubbish properly," he said.