HMS Dasher returns for Cornish exercise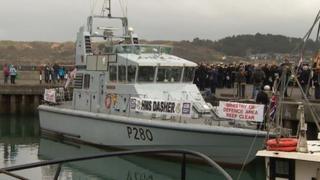 The Royal Navy patrol vessel, HMS Dasher, will visit her twinned town in Cornwall later for a short stay.
As part of her Easter deployment, the ship will be arriving in Padstow harbour on Sunday evening and will stay until Tuesday.
The Dasher was last in the resort in March 2013 for a rededication service.
The vessel, which is in its 25th year of service, provides the opportunity for students to spend time at sea on weekend trips and longer deployments.
The vessel is the Universities Royal Naval Unit vessel for Bristol.
This latest deployment will allow the students to put into practice what they have learned on drill nights throughout the year, a Royal Navy spokesman said.
Skills such as seamanship and navigation will be put to the test.
Lt Roger Skelley, HMS Dasher's Commanding Officer, said: "Be under no illusion about the intensity of this deployment.
"The students will certainly be put through their paces. There is no better experience for them than to get to sea and put theory into practice in whatever situations or conditions are thrown at them."
Dasher will be hosting some local dignitaries and affiliated Sea Cadets onboard as well as running an annual "Padstow DASH" - a charity jail break from Padstow back to Bristol.
Teams will aim to complete the journey with no money while completing other challenges along the route.
All money raised will go to RNRMC, the Royal Navy & Royal Marines Charity.
The vessel is named after the aircraft carrier HMS Dasher, which sank off the coast of Ardrossan in Scotland, on 27 March 1943 with the loss of 379 of her 528 crew.