Charles Causley: Walking in Launceston poet's footsteps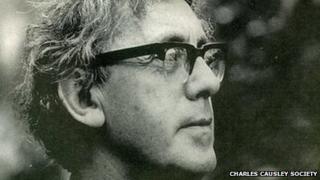 Throughout the north Cornwall town of Launceston there are reminders of its famous son, the poet Charles Causley.
It could be one of the houses he lived in, the bridge where he stood writing poems, the walks led by former pupils who sing his praises, or his final resting place in the cemetery by St Thomas's Church.
Causley was proud of his Cornish roots, which can be found in his vast array of poems which frequently included references to the duchy and its legends.
Many of his books of verse for children have been illustrated by prominent artists. In addition to his poetry, Mr Causley wrote plays, short stories and opera librettos.
Although he died in 2003, his work, and his lifelong ambition to encourage other writers continues, as Kathryn Simmonds from Hertfordshire is well aware.
She has spent six months living and working in Launceston, describing the opportunity as "an honour".
She was awarded the first Charles Causley residency allowing her access to his former residence, his catalogue of work and many of the people who knew him.
"You walk around the town and you feel like you're in a dozen Charles Causley poems at once," she said.
"It's amazing how Charles Causley picked up little pieces of Launceston in his work. He must have always walked around with his eyes wide open."
As well as retracing Causley's footsteps through Launceston, she had the chance to spend time in his final home, where she said she gained a stronger understanding of the man himself.
"I got the atmosphere of Charles Causley's house," she said. "It's amazing to see the work that the trust has been doing to preserve the house. All his furniture is there. It has his personality still there living in the house.
"What I really appreciated about Charles Causley's writing, when I came to look at it closely, was his structure, the way his poems are beautifully crafted and his natural gift for imagery. He speaks directly to his reader. I really like those qualities.
Ron Tamplin, from the Charles Causley Trust, said he believed the poet would approve of the residency.
"He had an inner reserve but he had a terrific sense of humour," he said.
"He was a great encourager. Anybody who asked him for help in writing, he would willingly go to great lengths for them.
"I often think in an odd sense we're continuing what he would have wished to do, to help people, through the residency."
Ms Simmonds' first collection - Sunday at the Skin Launderette - won the Forward Prize for best first collection in 2008 and her short stories have been published in magazines and broadcast on BBC Radio 4.
During her residency Ms Simmonds also completed her first novel, Love and Fallout which will be published by Seren, in June 2014.
The Charles Causley Trust is now looking for its next poet in residence, from July to December.