Fire crews called to chalet and boat blazes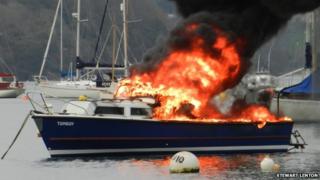 Fire crews in Cornwall were called out to two large fires within seven hours.
Crews were called to a fire at about 19:00 BST on Saturday on board a 20ft (6m) boat in Mylor harbour. The vessel sank but no-one was injured.
Later, at 02:00 BST, one person was taken to hospital after a fire broke out at a wooden chalet in Carbis Bay.
Forty-five firefighters attended the scene at Hawkes Point in Headland Road. The single-storey chalet was severely damaged.