Scaffolding goes up at storm-damaged Truro Cathedral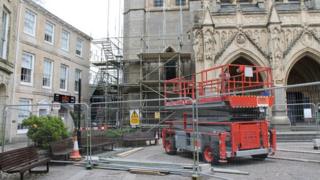 Scaffolding is being erected at Truro Cathedral to allow repairs to damage caused in recent storms.
A mullion fell from an arch on the building's west side during the bad weather in February, causing debris to land on the cathedral shop roof.
As well as allowing work crews to restore the mullion, the scaffolding would mean additional inspections can be conducted, staff said.
Assembling the scaffolding will take between six and eight weeks.
Public access via Wilkes Walk has been restricted while the work is ongoing.
Staff previously said that scaffolding was required because "where the mullion fell from, it's inaccessible".