Cornwall Council pays out £780k for compensation claims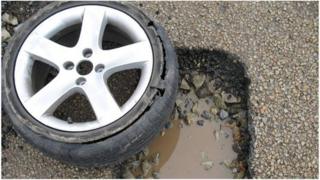 More than £780,000 has been paid over four years by Cornwall Council in compensation for personal injury, damage to property and potholes.
Compensation has risen from £187,000 in 2010 to about £207,000 in 2013, a response to a BBC Freedom of Information (FOI) request showed.
In 2013, almost £40,000 was paid out to people who fell on steps and more than £30,000 for injuries caused by potholes.
The council said it tried to keep such payouts "under control".
Alex Folkes, the councillor in charge of finance and resources, said: "Ideally, what we want to do is prevent people tripping or falling in the first place.
"The trouble is that's impossible to guard against completely, so what we have to do is our best to minimise it.
"When we have to pay out, we pay out a fair amount but not too much."
The BBC research showed Plymouth City Council paid out £2.1m which is more than any other council in the region which provided information.
The Local Government Association said it could not comment on the figures because it did not collect statistics.