Scilly wants £12m for sewage system upgrade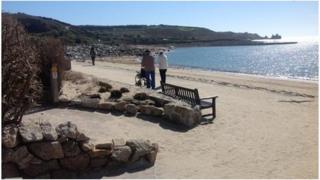 The Isles of Scilly is asking the government for £11.7m to bring its water and sewage system up to date.
The islands' current system, which dates back about 80 years, includes discharging untreated sewage into the sea off St Mary's.
The Local Enterprise Partnership (LEP), which is supporting the bid, said in a report that the islands had to comply with European water directives.
It is part of the LEP's plans for £1bn of investment in the next seven years.
'Critical' for islands
The LEP, which represents local businesses, said updating the water and sewage system "supports the 100,000 visitors on the islands who expect treated sewage and clean drinking water in the UK".
It also "safeguards 1,200 jobs and would be a fundamental investment in the future of islands' economic viability".
The five inhabited islands, which have a population of about 2,000, also include a number of marine protection sites and 27 Sites of Special Scientific Interest.
Sandra Rothwell from the LEP said: "It's a significant issue. The islands have clear needs for further growth and to keep the islands economically sustainable. It's critical for them."
Jane Hurd, who owns a bed and breakfast on St Mary's, said: "Personally I have never had a problem with it and I swim in the sea.
"If it cleans up the sea around us all well and good, but, as far as I am concerned, the sea is always beautifully clean."