Cornwall superbug C. diff cases double target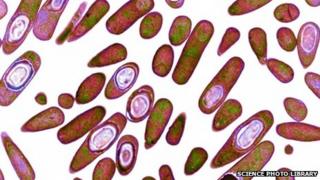 Cases of the superbug C. difficile in Cornwall hospitals were double the target last year, it has emerged.
The Royal Cornwall Hospitals Trust (RCHT) revealed in a report to the board that there were 40 cases last year, against its target of 20.
The infection can cause severe and sometimes fatal diarrhoea.
The RCHT said it was working with GPs on cutting C. diff infections and no cases were the result of cross-infection between patients.
The Trust is responsible for 750 beds at the Royal Cornwall Hospital, Treliske, Truro, West Cornwall Hospital, Penzance and St Michael's Hospital, Hayle.
Dr Andrew Collinson, joint director for infection prevention and control, said: "It is always our aim to avoid any preventable cases of C. diff and none of those reported over the last 12 months have been a result of cross-infection between patients.
"We are working hard with our GP colleagues in primary care to keep to an absolute minimum those infections that occur where the choice has to be made over the need to treat an illness with antibiotics and the patient's risk of contracting C. diff infection."
The trust's target next year would be 35 cases.
Derriford Hospital in Plymouth had 34 cases against its target of 25, it was revealed in a report to the board.
Derek Butler, of MRSA Action UK, which campaigns against hospital infections, said: "Avoidable infections are unacceptable.
"These are human beings we are talking about and sadly when they pass away it leaves a legacy that never goes away."