ShelterBox founder's wife died of morphine overdose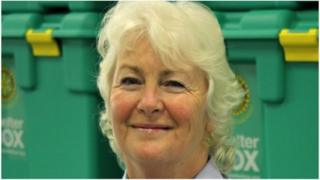 The wife of ShelterBox founder Tom Henderson died after taking a large amount of morphine following her husband's sacking, an inquest heard.
Jane Henderson, 59, died in August 2012 the day after her husband was dismissed from the Cornwall-based aid charity.
Mr Henderson was arrested last year in connection with fraud and money laundering offences and released on bail until 22 April.
The inquest, held at Truro City Hall, recorded an open verdict.
Mrs Henderson was found in bed by her eldest son John and her husband.
John Henderson attempted to revive her by giving CPR, but she was declared dead by ambulance staff at the scene.
At the inquest, he said his father had been sacked by email and when his mother saw the message, she "collapsed and wouldn't be consoled".
The ambulance crew told the hearing that when they arrived John Henderson was "very emotional" and angry and was accusing Ian Munday, one of the charity's board members, of causing his wife's death.
The family declined to comment after the hearing.
Shelterbox, based in Helston, delivers survival equipment to disaster areas around the world.
A spokesman said: "Jane was a great friend to ShelterBox. Staff and supporters have fond memories of working with her.
"They will all wish to extend their deepest sympathies to those who knew her."