Falmouth harbour dredging will not affect wildlife, study shows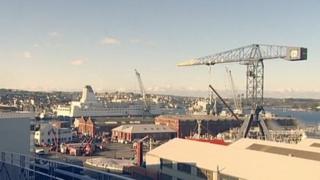 A scientific trial shows dredging Falmouth Harbour can be carried out without affecting local ecology, those behind the proposals say.
Harbour bosses want to dredge a channel to allow more cruise ships access, but there are concerns fishing beds and a rare algae, maerl, would be damaged.
Harbour authorities said a trial dredge saw a top layer of maerl scraped away, re-laid and successfully re-colonised.
Fishermen said they still had concerns about the dredging process.
'Ships getting larger'
Maerl is a calcified seaweed that exists in only a few coastal areas. It acts as a nursery for commercial fish stocks.
Harbour bosses said the dredging trials showed that, after 44 weeks, the maerl habitat had been re-colonised.
Falmouth harbour bosses said dredging was needed because cruise ship visits could be under threat as the port was becoming too shallow for bigger ships.
Harbourmaster Mark Sampson said: "Ships are getting larger and ports can outlive their usefulness unless they can improve."
He said the data would be passed on to the Marine Management Organisation (MMO) to consider whether to allow full scale dredging.
Mr Sampson said: "This trial does give very useful data around maerl in this case."
However, critics said other concerns still had to be addressed.
Dr Miles Hoskin, a marine biological consultant and part-time commercial fisherman, said: "There are still unresolved issues about what's going to happen to this huge amount of material that would be dredged.
"That could settle and smother habitats elsewhere."
Those campaigning for dredging say it could bring an extra 800 jobs to Falmouth.
Those against it said the risks to the environment were just too great.