Ben Cowburn death: 'Care shortcomings' before suicide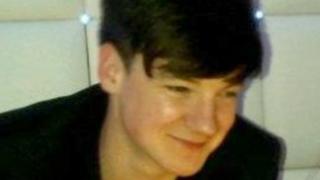 A teenager who killed himself died following a "combination of shortcomings in his care", an inquest jury has concluded.
The jury at the Ben Cowburn inquest concluded an open verdict.
The 18-year-old, from Truro, took his life in an adult mental health unit in Cornwall in December 2010.
The jury foreman said "poor communications" and the "proximity of the staff on duty" contributed to his opportunity to kill himself.
'Drama queen'
During the eight-day inquest, the jury heard Mr Cowburn had previously made 43 suicide attempts and the cause of his death was asphyxia, which was caused by an item he had smuggled into the unit.
Sharon Linter, a senior manager at the Cornwall Partnership NHS Foundation Trust, told the inquest that staff were now trained by the police in search techniques to prevent such items from being smuggled into their premises.
Giving evidence, Mr Cowburn's mother Sharon claimed that consultant psychiatrist Dr Adrian Flynn had told her Ben was "a drama queen and things were not as bad as they seemed".
Richard Edgeworth, an expert in mental health nursing, said the nurses' approach to care planning had been "ad hoc and inconsistent".
Ben Cowburn's named nurse, who should have been responsible for the updates, hardly appeared in the documents, he said.
The jury heard how a gay male TV comedian, referred to as Mr X throughout proceedings, did "sexual things" to Mr Cowburn while he was studying fashion in London.
Det Con Joanna Sodergren said: "He said he wasn't able to end his life because 'he' wouldn't let him.
"When asked who, Ben said he did not want to talk about it and it was not fair as he was on TV and in magazines on every page, and why did he have that after what he did to him?
"The male had bought him nice things and took him to nice places but had done sexual things to him."
'Dirty and used'
Nurse David Taylor said in a written statement that he thought Ben had been groomed by the man.
Mr Cowburn told the nurse he felt "dirty, used, belittled, ashamed and humiliated" but did not want to go to the police.
Speaking after the ruling, Steve and Sharon Cowburn said their son had been "thoroughly failed" by the NHS and they had been "failed" by the inquest.
Mrs Cowburn said: "After an agonising wait of over 1,000 days this inquest has been bitterly disappointing, from several key members of Ben's care team who were not available for inquest and to the frustrating regularity with which NHS staff were unable to recall key events."
A manager from the Cornwall Partnership NHS Foundation Trust said changes had been made since the death.
Dr Ellen Wilkinson, medical director at the trust, said: "Ben was admitted to Longreach House on October 8 2010 so we knew him for those few short weeks during which time he was being assessed to try and discover the range and depth of his problems so we could ultimately provide the most appropriate treatment for him in the best possible conditions.
"Despite our efforts Ben sadly died. We immediately examined all aspects of our treatment and care.
"On the day Ben died he had been out with his sister. When back on the ward he was engaging well with staff and the other patients.
"He gave no indication of the tragic events which were to later occur."
She added: "The coroner is satisfied the trust has addressed the shortcomings identified. Our thoughts are with Ben's family at this time."
Mr Cowburn's parents have been campaigning for a specialist mental health unit in Cornwall for young people.