Care report calls for Royal Cornwall Hospital improvement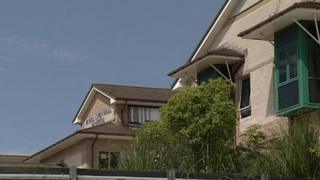 Cornwall's main hospital has been told it must improve services in a report by the Care Quality Commission (CQC).
Patient records on some wards at the Royal Cornwall Hospital were incomplete and too many operations were being cancelled, the CQC said.
The Royal Cornwall Hospitals Trust's (RCHT) and two other hospitals in Hayle and Penzance, were awarded an overall rating of good.
The RCHT welcomed the report and said it recognised "there is more to do".
'Intense pressure'
The CQC inspection is part of a new national inspection regime set up in the wake of the Stafford Hospital scandal.
The RCHT was chosen as one of the first to undergo such scrutiny as it has applied to become a foundation trust, which will give it greater control over its finances and service provision.
The report found there was conflicting and missing information in relation to the assessment and management of patients with pressure ulcers and, in care plan records or nursing notes, patients had been put at risk of not receiving the care they needed.
It also found too many operations were being cancelled or delayed due to a shortage of ward beds.
The CQC said the trust needed "to plan and deliver care safely and effectively, involving the trust's partners to ensure that pressures and shortfalls in capacity are managed across the wider community".
RCHT chief executive Lezli Boswell said the CQC report showed "an improving organisation".
She admitted there was more to be done "on the digitisation of patient records, continuing investment in modern technology and equipment and most of all on patient flow so that care is provided in the right setting".
"The CQC report now gives us an independent and detailed view of the areas we need to improve and we will work together with our partners to ensure we can provide the very best care and health outcomes for the local community," Ms Boswell said.
The RCHT's St Michael's Hospital in Hayle and West Cornwall Hospital in Penzance were given a rating of good.