Poldark Mine tourist attraction in administration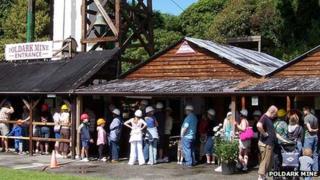 An 18th Century tin mining attraction has gone into administration.
Poldark Mine and Heritage Centre in West Cornwall, will be put on the market with a guide price of £350,000.
Adminstrator Richard J Smith and Company said the attraction had been affected by a downturn in visitor numbers and the death of the managing director and "life force" of Poldark.
Christie and Co, who will handle the sale, said it expected the sale to receive a high volume of interest.
"With the BBC about to start filming a new adaptation of the 18th century set drama Poldark in Cornwall, the Poldark Mine will have a whole new resonance for visitors, and potential buyers, in the 21st century," director Matthew Smith said.
The mine, which is situated within the Wendron District of the Cornish Mining World Heritage Site near Helston, attracts about 18,000 visitors annually.
It is the only complete underground mine open to the public in Cornwall and Devon.